Dr. Chris Broyhill
I have the pleasure to serve our industry as a member of NBAA's Business Aviation Management Committee and oversee the NBAA Compensation Survey. The results of the 2021 Compensation Survey were just released and I was asked to review them. The data is stunning.
As the nation and our industry endured the COVID-19 crisis, we all wondered what the aviation and business shutdowns would do to compensation levels. The most prevalent concern was the specter of wage compression during the crisis. Would employers take advantage of the situation to force wages downward? Would the simple lack of demand for aviation professionals drive a corresponding decrease in compensation? Well, the survey data provided a resounding answer to that question: "NO!!!"
The initial clues were the quarterly stats on private industry wage growth as provided by the U.S. Bureau of Labor Statistics. In the second quarter of 2020, when COVID was forcing nationwide shutdowns, the quarterly rate of wage growth in private industry decreased from .8 percent in the first quarter, to .5 percent. The takeaway here is wages were still growing, just at a slower rate. Then, in the third quarter, wage growth returned to .8 percent. In the fourth quarter, it was .9 percent, and in the first quarter of 2021, it was 1.0 percent, the highest rate in a decade.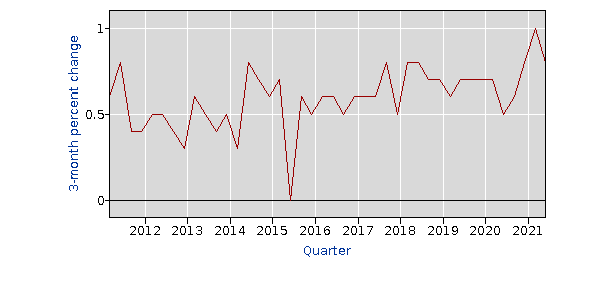 US BLS PRIVATE INDUSTRY QUARTERLY COMPENSATION WAGE GROWTH - 2011 - 2021 
Over the course of the last year, as I have watched these stats (I spend WAY too much time on the BLS website), I've been repeatedly asked for my opinion regarding the effect of the crisis on business aviation compensation. I cautiously answered that I thought the rate of compensation increase we've seen in our industry over the last years would flatten somewhat in the 2020 - 2021 timeframe. Well, I was wrong. The data in the table below comes from the results of the 2021 NBAA Compensation Survey and features trend information from previous years. Look at the bottom row of the table. On a yearly average basis, base salary and total cash compensation increased more from 2020 - 2021 than they increased over the last six years. The BLS stat for private industry wage growth in the U.S. from Q1 2020 to Q1 2021 was 2.8%. The rate of wage growth in our industry was more than three times that rate over that same period.
NBAA Comp Survey Data
2015 - 2021
2019 - 2021
2020 - 2021
Position
Average Base Salary Growth
Average Total Cash Compensation Growth
Average Base Salary Growth
Average Total Cash Compensation Growth
Average Base Salary Growth
Average Total Cash Compensation Growth
Aviation Manager (Flying)
42.14%
48.18%
12.58%
11.56%
6.83%
6.36%
Chief Pilot
48.02%
49.85%
10.68%
9.83%
4.44%
3.49%
Senior Captain
36.89%
40.03%
13.60%
14.05%
6.32%
4.99%
Captain
43.56%
44.58%
14.91%
15.03%
8.81%
8.58%
Director of Maintenance
29.57%
32.71%
8.01%
7.37%
6.02%
5.90%
Maintenance Technician
28.91%
23.87%
18.52%
16.39%
17.79%
15.70%
Scheduler
27.85%
27.41%
17.91%
15.19%
8.29%
5.97%
Flight Attendant
38.00%
33.73%
24.14%
22.88%
22.92%
16.71%
Average
36.87%
37.54%
15.04%
14.04%
10.18%
8.46%
So, in a period where everyone was afraid wage compression would take place, we saw wage growth at an unprecedented rate. And this is just the beginning. With the airlines scrambling to fill cockpits and cabins, business jet utilization increasing beyond pre-COVID levels, inventories of used business jets decreasing, and delivery positions for new aircraft being pushed to the right, the perfect personnel storm for our industry is here. According to one of the central tenets of microeconomics, when demand increases, supply decreases, and prices rise. The price for business aviation labor is already rising. Where it will stop is anyone's guess.
The NBAA Compensation Survey is a world-class compensation tool. It is the most inclusive compensation analysis instrument in our industry and features data collected and analyzed by BDO, one of the most highly-regarded risk management companies in the world. I use the NBAA Compensation Survey in my business on a daily basis. If you're an aviation manager, this is a personnel tool you should not be without. For more information, click here.